Mike, right after the big win. Note the Vancouver 2010 mug. It was a Christmas gift from his mom. I kind of want one too now. (I got those red mittens everyone was wearing, you know with the maple leaf on the fingertips)
My fiance is Canadian. He (and I) are very happy that Canada's Men's Hockey team won the Gold Medal this evening (and very dramatically, I might add).
I am severely bummed that the Olympics are over. I love them: the competition, the unification of countries together, the sports that aren't publicized year-round (like curling. I love curling!), the montages, the sappy commercials about moms, and athletes, all of it! I also love that there's something real to watch on tv for two weeks. Not manufactured reality, like "reality TV," that's just people wanting their 15 minutes in fame for being the fattest, brattiest, or dumbest, but something that athletes train their whole lives and careers for.
So here's to you, USA, for winning the most medals ever in a winter Olympics!
And here's to you Canada, for winning the most GOLD medals ever in a winter Olympics, more than the U.S.!
And thank you, Vancouver, for hosting a great Olympics, one that was even sustainably minded! (Read about it
here
)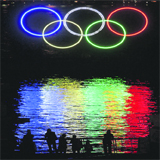 Farewell Olympics, until 2012 in London!!!